London Garden Design and Garden Restoration, Plantsmanship, Irrigation design and installation
Dilip Lakhani
Echeveria Elegans in Garden Design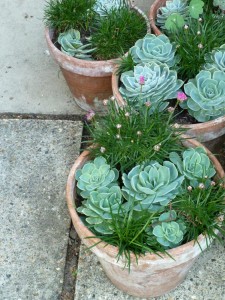 I love this combination of the grassy plants with the chunky leaves. This pretty collection of terracotta pots in a London garden is planted up with a simple collection of only two varieties of plants.
The planting design works because the grey-glaucous fleshy leaves of the Echeveria Elegans has a slight pinkish bloom which is picked up by the pink flowers of the Armeria Maritima (Sea thrift).
It also works horticulturally because they both require the same alpine or dry growing conditions. This is accomplished by using a John Innes type three compost with some sharp grit mixed in to give good drainage. The terracotta pots add to the whole and plastic pots would just not have worked in this combination.